If you are like me, my menstrual cycle puts a damper on how I feel and my daily activities. Every month I feel challenged and wonder how I will get through this phase.

It is important to accept this phase in life and understand that the body is using more than normal energy during this process. Therefore, it is important for Pilates instructors and practitioners to consider the following key factors during this normal time of the month.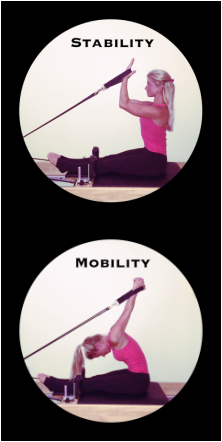 Fluctuating Hormones: We have all been faced with hormone shifts, but during a woman's monthly cycle a lot is occurring in the body resulting in body weakness. During this time, exercises that were easy the day before might be the more challenging. So listen to your body and take a step back.
Loose Joints: Those that have gone through pregnancies know that joint laxity increases due to a hormone that is released in the body. The same is true during the hormonal cycle, but reverts back to normal once the period starts. So, instead of over challenging your muscles, consider gentle movements during this cycle. I like to say focus on STABILITY rather than MOBILITY during this difficult time.
Inversions & blood flow: You might call me a bit of a conservative, but I have always steered away from inversion during client pregnancies. Same goes during the heavy flow 'womanly cycle'. Why? In these instances, I see no need to challenge the flow of energy being released by the body during this natural process.
So why still practice Pilates during the monthly cycle?

Studies have shown that one of the best ways to relieve menstrual symptoms is to exercise. Getting the body moving, blood flowing, and deep breathing are all ways to relieve symptoms. Over the years I have become pretty good at identifying when a client is on their monthly cycle. For clients experiencing extreme symptoms, I avoid movements involving pelvic lifting to prevent reversal of blood flow. For clients showing no signs or symptoms, I proceed in a normal manner. Be aware that injury can easily occur due to laxity of the joints during a woman's cycle. Prevent injury by monitoring an individual's range of motion and make sure the individual is stabilizing their body with the powerhouse.

If you are one that does not deal with any of the above issues, you are one lucky woman! But, for those who do and have been practicing Pilates, don't worry—I'm sure you have done no harm. Just be more aware and consider these issues in your practice to avoid future problems. Each woman's experience is different. You know your body—just be aware and careful during your cycle. What works for one person might not work for others. So my best advice is to listen to your body—not just during this time but ALWAYS!