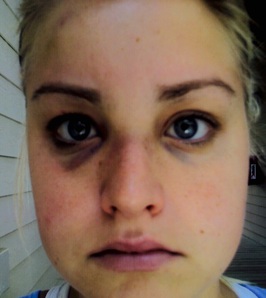 Let me set the stage--
It was 2007 on a beautiful afternoon in Raleigh, NC. I had just finished receiving an amazing facial by my dear friend Robin D—and, as always, her luxury facial included a wonderful foot massage. After the calm of Robin's spa table it was back to the studio to teach my evening clients. Little did I know that my relaxed brain might be getting some sense knocked into it by nightfall.

Working through a session I proceeded to teach bottom loaded movements on the Cadillac. How many times as an instructor do we put our own personal safety last and proceed to demonstrate? Well that was my day to learn the biggest lesson of my Pilates career. Safety first!!! I bottom loaded the Cadillac and went under to demonstrate a move for my client. Ignoring the fact that my feet were slippery from my amazing/relaxing facial, I placed my feet on the bar and things immediately went downhill—literally—downward towards my forehead. I still remember the jerk, sounds, vibration, teeth clenching feeling I experienced. What was I thinking? How many times had I repeated the importance of safety with the push through bar, especially when bottom loaded? Lesson learned. Thankfully it was me and not a client under that bar.

As a result a huge knot immediately swelled up on my forehead that eventually turned into two black eyes. It looked as though I had been in an awful fight. Yes, I learned my lesson and, from that day forward, I have never performed that move without using the safety strap!

LESSON LEARNED- SAFETY FIRST!!!!