In my life I strive to find both physical and mental balance.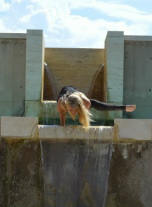 In this blog I am going to focus on the first definition- balance physically.
Over the years I have observed that the key element needed to achieve balance is proper Gaze. In other words, proper Gaze is achieved when an individual is able to focus and connect. Have you ever tried to stand on one leg and lost your focus? That simple movement causes your Gaze to shift and your body to move out of balance if you're not focused and connected. Now, consider the same concept in all areas of your Pilates practice.
Joseph Pilates Fact:
An incident in Joseph Pilates' early life caused him to lose an eye and be forced to live with one good eye and one glass eye for the rest of his life.
Why do I bring this up?
I want you to consider how your Gaze would be effected if you only had one eye. Would you be able to achieve balance as easily? How did Joseph Pilates create a program that focuses so much on linear movements, alignment and balance when he was physically unbalanced with only one working eye? Maybe his disability was one of the driving factors behind the development of the Pilates Method. Could it be possible that the Pilates Method was partially conceived out of Joseph Pilates need to create balance in his life after the loss of his eye? As a Pilates enthusiast, this knowledge increased my respect for Joseph Pilates.
I have personally experienced how an individual can realign their Gaze and achieve balance using focus and inner connection. During the later years of my step-grandfather's life he lost his vision in both eyes. Despite his disability, he realigned his life using other senses and was able to function independently for most of the rest of his life. I was amazed by his sense of awareness—he was one of the smartest men I have ever known.
ACTIVITY:
Stand on one leg with your eyes closed
Stand on one leg with one eye closed
Most people will feel a bit unsteady. The eyes are the key to maintaining balance.
Let's now look at balance and how this relates to our Pilates work. Next time you teach or practice balance in a Pilates move, notice your Gaze. When your eyes are looking around do you lose your balance?
When teaching balance in a Pilates session, don't stand where the client can see you and don't move around while the client is performing the move. Often, clients will focus on you and not the movement—especially if you are moving around.
I use the following cues when working on standing balance with clients:
Press evenly through the points of the foot
Keep alignment of the foot, knee, and hip
Lengthen out of the hip rather than dropping into the hip
Keep the arms fixed in one position
Look straight ahead at a non moving point
Physical balance is important in life, especially as we age. So I challenge everyone to practice standing on one leg daily and add this same element into your teaching. Remind clients to Gaze forward and concentrate on the movement. With repeated practice of this simple move, an individual will learn to focus and reconnect with their body so they can achieve physical balance in their life.