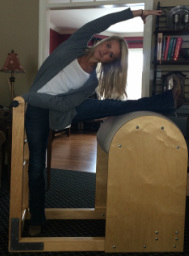 For me, my fitness philosophy began early in life. Growing up I was physically active in gymnastics, cheerleading, softball, springboard diving, tennis and distance running. I was influenced by my brother's activities. Anything he participated in, I wanted to also attempt. My brother was older than me and excelled in many different physical activities. I admired my brother and, just like many younger sisters, wanted to be just like my brother and imitate his success.
After spending years participating on sports teams and performing in competitions, I became interested in the world of fitness. I started lifting weights and became active in a gym setting. Due to years of physical training as a gymnast, my body naturally developed muscles and increased in bulk. I loved the fitness world and yearned to broaden my knowledge outside the gym. An article in a magazine introduced me to The Pilates Method and I wanted to learn more about this unique form of exercise. While still in high school, I began taking Pilates privates and mat classes having no idea how it would change my body. I immediately fell in love with how my body and my mind transformed. Something about The Pilates Method made sense to me and I was hooked. Shortly after beginning my practice, I enrolled in my first Pilates certification course.
Three months after beginning the course, I began college. As many of you know, the college years are a time of reflecting on who you are and what you want out of life. I experienced these feelings especially in my fitness routine and struggled to find the right balance. At this point I was lifting weights, spinning, using cardio machines, etc. If it was in the gym, it was part of my routine. But, I was not happy with how I felt or how my body was developing. During this time, I was also practicing Pilates and learning more and more about The Pilates Method. I continued the gym/Pilates fitness routine throughout college and well into my twenties.
Five years ago I made a choice to change my fitness routine. Still unhappy with my body, I decided my current fitness training was not providing the results I was seeking. Something was missing and I began to recognize that I needed to focus more on the mind and body aspect of well-being. At that point I made a conscious decision to leave the gym and focus on running and Pilates as my course of action for well-being. I have always loved to run outdoors because it provided relief for my ADHD symptoms—both physically and mentally. And, Pilates provided a perfect complement to my running regimen. But, why did I choose Pilates?
After five years of my new fitness routine, I can honestly say I feel better than ever. People often tell me I look like I work out and ask if weight lifting is part of my regimen. Inside I laugh because when I was doing that kind of work out, nobody noticed. Now, when asked, I am happy to tell them I run and do some form of mind body work every day.
I have stepped away from the concept that an effective work out requires challenging and punishing your body. Why would you want to punish your body—it's the only one you have—love your body and treat it with respect. Your body is a well-oiled machine and is smart enough to tell you its limits. If you continually abuse your body, it protects itself by reversing the expected effects of an over challenging routine. You may bulk up, gain weight, suffer injuries, experience fatigue, etc. So, nurture your body by listening to what your body is trying to tell you. You can do challenging routines, but step back when your body speaks.
Following are Key Points to consider when performing any fitness routine:
Quality over quantity
Control, precision, form are more important than repetition
Recovery is just as important as the workout
Alignment & form are essential in achieving definition
You can use your own body weight to achieve definition
Hydration and water can be a life changer
Electrolytes
Sleep is essential- this is the time your body repairs and rebuilds
Food is your fuel not your enemy
Positive thoughts and self talk reflect to within
Stress and negativity can cause sickness and weight gain
Not every type of workout is right for everyone
Too much of anything is not good—everything in moderation
Deep breaths and mindful breathing daily
Meditation
Listen to your body
Stretching is just as important as any other workout
Move the body in all directions
Alignment creates balance within the body and relieves stress
Get outside daily—sunshine is important
Sweat daily
Move your body first thing in the morning to get things moving
Nurture your feet—the feet are a reflection of your body
Find time to be with yourself—you and only you
Yawn and stretch to create oxygen throughout the body a few times each day
Be content with where you are today and know nothing is permanent
Change starts from within
The previous list is just a handful of my personal philosophies regarding fitness and wellbeing. Over the years I have learned a lot through experience, trial and error, educational opportunities and listening to others. I am like a sponge and try to learn something new every day. The knowledge I have gained over the years has formed my personal fitness philosophies and I strive to bring these concepts into my teaching practice. Not all of the statements apply to all individuals. Each person is unique. Listen to your body and apply appropriate steps to achieve your own personal wellbeing. Joseph Pilates understood these concepts and shared many of the same key points in his book Return to Life published in 1945. Joe was a visionary and well ahead of his time. Despite the decades that separate his thoughts from present day, each apply equally as well today as they did during his lifetime. My respect for The Pilates Method grows each day and I hope to share this love and passion with others.
In conclusion, remember, the human body is a smart machine. If your body is speaking to you and rejecting your current routine, don't ignore the signs. Stop and listen to your body and connect both mentally and physically. Trust me. Your time working out should be a period of reflection, self-love, healing, and much more. I look forward to my runs and Pilates practice every day because it is a time for me to reflect, listen to my thoughts, slow down, de-stress, rationalize, and, most of all, be creative. So, slow down and enjoy!