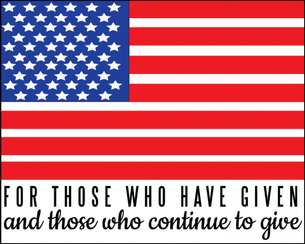 To serve and sacrifice
To remember and never be forgotten

As my doggie Kiah and I enjoy this beautiful spring day, we long for the safe return of my husband and her daddy from deployment. He is always in my heart—every second and moment of the day.

The sacrifices of those that serve our country are beyond words. The dedication, commitment and sacrifices they make are just a few of the many attributes these men and women display in their service.

The reality is that not all those that serve come away from deployments safe or mentally stable. I have experienced this first hand with many of my husband's teammates. Sadly, he lost one of his dear friends to the mental struggle many experience after serving in the military.

How does this struggle and Pilates correlate?
Pilates: Healing the Body Emotionally

The Pilates Method is not just a physical practice. Proper executions of Pilates' movements have an effect on both the physical and mental well-being of an individual. I have had the opportunity to work with many individuals that have lost loved ones due to varying circumstances and truly believe their Pilates practice was a major factor in the healing process. Each of these individuals was able to appropriately grieve and eventually reconnect with life. I have also worked with individuals that have experienced a traumatic life experience causing emotional and physical damage. Using the Pilates method, many were able to regain a sense of balance in their life.

I have personally seen the effect a deployment has on those serving in the military and the loved ones left at home. The time away is difficult for both, but the transition that occurs upon return is often more difficult. Reintegrating into the life at home is challenging for both the service member and loved ones and is often filled with struggles. Thankfully, there are many resources available during this time of transition…including The Pilates Method.

Pilates: Healing the Body Emotionally is a chance to educate and teach those that struggle with traumatic events how to use the Pilates Method to find inner peace, mind/body balance, self-love and acceptance. With time, the Pilates Method can help these individuals understand they are not defined by their struggles, but, instead defined by their inner strength.

As we celebrate Memorial Day I reflect on those close to my husband that made the ultimate sacrifice and will never be forgotten. I am also thankful for all that are currently serving and their families. I believe that we all have been given a gift of service and my gift is to use The Pilates Method to help others any way I can.