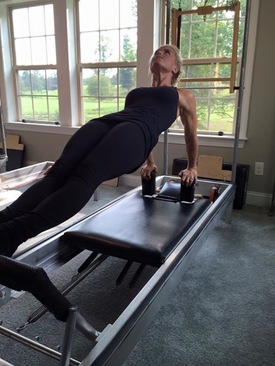 Practice + Patience + Persistence
Often, many people view fitness as a physical practice aimed at improving their outward appearance in an effort to bolster self-esteem. I challenge you to ponder the notion that if I look a certain way, I will feel better about myself. Although sad but true, society today places far too much emphasis on body image instead of valuing both the physical and mental well-being of an individual. I could go on about this topic, but, I will leave body image to a future blog. Instead, I want to focus on the importance of "gaining the mastery of your mind over the complete control of your body." (Joseph Pilates)

Believe it or not, I have known individuals that exceeded their physical limitations by simply using their mind as a driving force. I have also known individuals that could have achieved a different outcome if they had engaged mental determination and allowed the mind to power the body. The mind drives the body.

Instead of looking at the 3 Pilates P's on a physical level I want to focus on the mental/emotional level.

Practice

Practice what you speak. Sticks and stones can break your bones, but words will never hurt me. True but false. If you can truly say that someone's words have not hurt or influenced you then I would say bravo to you. Practice what you tell others. Look at it like this- if you believe something and feel you need to speak those words to others, you better hold true to those words yourself.

So practice what you preach and stand behind your words. This rule of thumb will make you stop and think. It will make you think before you speak and maybe allow you to reflect before you react.

Patience

Have patience with oneself and others. With the hectic world we live in today and the instant gratification concept, patience is diminishing throughout society. I have personally struggled with patience, yet, I value this characteristic and work hard to improve this in my life. I believe that everything happens in due time. Rather than trying to control every situation, be patient and allow the circumstance to play out. Everything happens for a reason so, next time you feel you want to control situations remember, "If it is meant to be it will be".

Persistence

"Patience and persistence are vital qualities in the ultimate successful accomplishment of any worthwhile endeavor." Joseph Pilates

SO TRUE: I will be the first one to say that I am sometimes too persistent and don't give up until I get my way. I guess this is a reflection of my problem with patience. I struggle with this daily and recognize the need for me to stop and let things happen in due time. The goal should be to stay on top of things and not ignore issues that need to be addressed. If you are passionate about something in your life and you know instinctively you need to do something, take charge and be persistent until you achieve your goal. But, don't go overboard. Remember—patience. (NOTE TO LAURA).

Don't give up. If you truly believe something is worthwhile go after it. We only live once and life is short. But, listen to your gut because; trust me, only you know what's best for you.


So now you ask, "how does the above information play a role in my Pilates Practice?"

The beauty of The Pilates Method is that it is not only a physical practice in a studio, it's a lifestyle. When performing movements in your Pilates practice you should engage the 3 Pilates P's of Practice, Patience, Persistence. But don't leave those concepts in the studio. Use them in your daily life to achieve overall well-being. Joseph Pilates understood many years ago that individuals needed to change their lifestyle both mentally and physically in order to avoid the pitfalls of societal thoughts and beliefs. If you believe as I do, our lives can be improved emotionally and mentally using the 3 Pilates P's. Eventually, this improvement will be reflected as well in our physical appearance and total well-being.