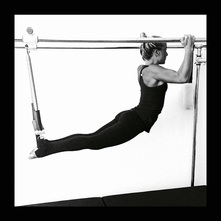 The Power of Silence-- A Mind, Body & Breath Connection

For me, I find a true connection with myself when I independently practice the Pilates Method. Spending time focusing on my movements is a time to step away from the constant stimulation of our hectic world. The silence of focus improves my ability to connect my mind and body. In this time of silence, I am able to re-center my life.

I challenge those reading this to try this on your own. Even for just 5 minutes a day—find time for yourself—in this time of silence and focus your life will be forever changed!

Are you someone who takes Private or group Pilates lessons regularly and only does Pilates when someone else is teaching you?

The number one goal for an instructor is to make a client efficient in their Pilates practice--in other words, an instructor wants you to practice Pilates without instruction. This means that an instructor's goal is to educate and motivate clients so that their students use the Pilates Method as a life style rather than a workout only followed when taking a class or private lesson.

Joseph Pilates created this system fully expecting individuals to practice Pilates on their own. In his studio, students took private lessons to prepare for self-practice and fine-tuning of execution. Pilates encouraged his students to spend time in the studio practicing on their own under his watchful eye. Pilates sent a powerful message by his action:

Silence and time with oneself is important!

Are you an instructor who cues constantly when teaching?

Joseph Pilates was a tactile teacher and only spoke when necessary. I believe we can all learn from his example--including myself. My family would be the first to say I talk way too much—they believe sometimes I talk to just hear myself talk. But, as an instructor, we must realize the power of silence and the importance of allowing our client to feel the work. Don't get me wrong—cues are wonderful especially when they accomplish their purpose, but be aware of how much you say. With your silence you are encouraging a client to focus on the movements thus generating a deeper connection of mind and body.

Silence is powerful and priceless! Find time for silence each and every day— it is not something that comes naturally to everyone, including myself, but with practice and patience you will begin to experience feelings of calmness, freedom, self-understanding, and much more in your life.