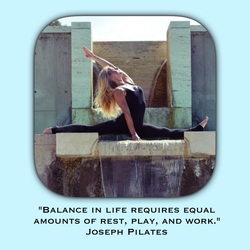 No matter what role we assume in life—teacher, boss, mother, father, etc.—we become an example for others that cross our path.

As a Pilates instructor, we have to accept and understand that we too are examples in the lives of others and we must accept that responsibility. How we stand, how we walk, how we treat our bodies, etc. are all things that influence our clients, friends and family. As Pilates instructors we know the power of connecting the mind and body. If we neglect either of these elements, our teaching will be comprised and our ability to be a positive example for others will be minimized.

So my question for you is, "Do you walk the walk or do you just talk the talk."

I encourage each of you to choose to be a positive example in the lives of those you touch. Practice what you preach. Find time to take care of yourself. Pilates is a lifestyle. Many times individuals just go through the motions and use Pilates as just another form of exercise. But, there is more to Pilates than other exercise regimens. As an instructor, it is your responsibility to remain connected with your passion for Pilates. Challenge yourself to dig deep. Stay connected with both the mind and body and work from within your Pilates passion.

Joseph Pilates understood that every body was unique. He understood the human body and created a program that could be modified for individual's needs. Joseph Pilates was mind/body connected and, as a result, opened himself up to be an example for those around him. During his life, Pilates' ultimate goal was to change the lives of as many people as possible by sharing his experience and knowledge in a positive manner.

So, I challenge my peers to not just practice textbook Pilates, but to dig deep within and be a true example of the work. Listen to your body; be in touch with what your body is saying. When you listen to your body and nurture yourself, you will develop a deeper understanding of the Pilates method. As a result, your true passion will shine through and you will illuminate a positive example to all you encounter.