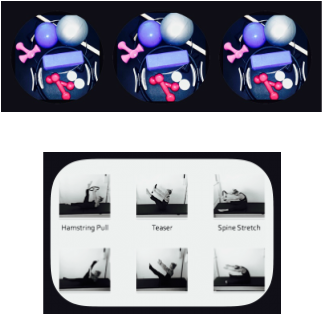 What do I mean by props?
Examples:
Balls
Weights
Resistant Bands
Yoga Block

My question for you is…
What is the real purpose of a prop?
Were props designed to make a movement more challenging or complex? Or were they supposed to add variety to a Pilates session? Or do you think they are designed to help a client connect with a movement?

Most Pilates instructors will say props are used to make a movement more challenging/complex or to add variety, but I want you to think a bit deeper. Why did Joseph Pilates invent the Pilates apparatus? Why did he add in small props? Pilates was a genius—he understood the human body and when a client exhibited a specific need he developed a tool (prop/apparatus/etc.) to address this need.

My challenge to you as an instructor is to reevaluate your use of props (tools). Today, group studios and individual instructors are using props to make clients feel as though they are being challenged by more advanced work. Joseph Pilates used props as a tool to assist a client having difficulty with a move. The true work of Pilates is powerful. There is no need to add props to make a session/class more advanced (balls, bosu, weights, etc.). If a client is having trouble executing a move, props are appropriate, but work towards mastery of the move without the prop. Trust me; there are plenty of challenging movements in Pilates that can make the work advanced for clients. Now I am not saying teach a group full of individuals snake and twist, but I challenge you to rethink why you are using a prop (tool).

From a different angle, have your clients become dependent on using props and don't feel challenged when they are not part of the session? If this is the case, maybe it's time to reevaluate and go back to the basics.

With the world that we live in today--over stimulation caused by use of a computer, tablet, IPhone, IPad, etc.--the last thing we need to teach our clients is additional stimulation is a good thing (more props/distractions). A Pilates session should be a time to step away from the over stimulated world and reconnect with the body; mentally and physically. Challenge yourself and clients to be okay with doing footwork with their hands extended to the side on the carriage and focus on breath and movement. Let me step back and explain. Instead of adding dumbbells to their hands (which I am seeing more and more of these days) teach your client that the movement is ultimately done with the arms extended long to one's side. Now I understand this is a challenge--especially since most people are attached to a device all day. Address this challenge by having the client hold a lacrosse or tennis ball in their hands while their arms are extended long by their side. Train the client to understand the stillness of the arms is the ultimate goal. As they learn to engage in this concept, remove the balls and observe their connection of mind and body. Do you understand the concept I am trying to portray? Rather than add the element of dumbbells and creating a distraction from the true work, use a prop as a tool.

As a Pilates teacher we are creating patterns, habits, life changes, and an example to our clients. So next time you find yourself resorting to a prop to challenge someone, rethink your purpose. Maybe this time teach the same movement, but focus on the true purpose of that movement—the ability to connect with the six principles of Pilates…Breath, Control, Precision, Flow, Centering, and Concentration.